Try Mobistealth: The Best Free SMS Tracker Online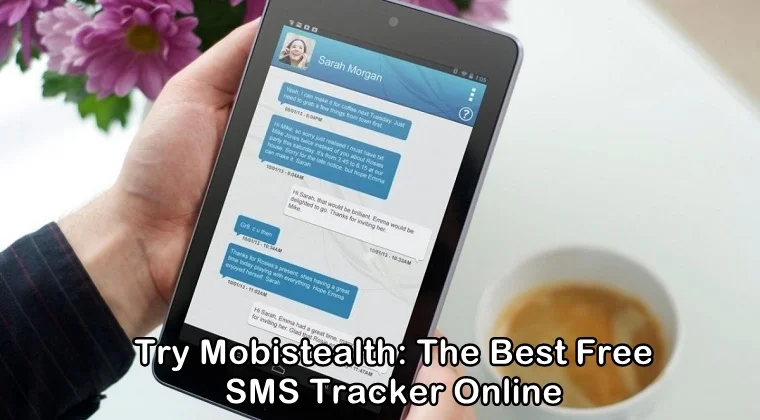 Are you stuck in a dilemma not knowing how to track one's text messages? Are you worried about your teen spending a lot of time on their phone, texting someone you don't know? Do you want to keep an eye on your employees and find out who they keep exchanging texts with during office hours?
If all of these worries concern you most of the time, it's time for you to get your hands on a free SMS tracker online app. Now, the question is, which app could help you effectively monitor someone's text messages without them knowing and that too for free?
Undoubtedly, several cell phone monitoring apps are available in the market that provide the SMS tracking feature. Some of them may even claim to carry out the job for you for free. But can those apps be trusted? Of course not! Find out more about them below.
The Truth About SMS Tracker Free Apps
While looking up for free SMS tracker apps on the internet, our browser offered us plenty of results. There were so many apps that claimed to track one's text messages for completely free. All they asked us to do was download and install the app on the target's phone.
However, we did a bit of research before blindly trusting those free apps. We tried and tested a few SMS tracker free apps to find out whether or not they worked and provided effective results. To our chagrin, we couldn't get the required outcome.
The SMS tracker apps that claimed to track someone's messages for free asked us to give them our personal information so they could send spam emails to our inbox. Some even asked us to download a third-party app or software before proceeding to the next step. A lot of risks are involved in such steps because you can never trust an unknown app as they may contain a malicious virus and disrupt your device.
Therefore, we suggest you staying away from such apps as they are mostly bogus and making false claims.
Use Mobistealth as Your SMS Tracker App
Instead of wasting your time and effort on fake and unreliable SMS tracker apps, we recommend you trying Mobistealth. This is essentially a cell phone monitoring app that is capable of tracking someone's text messages as well.
Basically, this app provides a host of monitoring features such as monitoring phone calls, text messages, emails, web browsing history, social media accounts, location, surround recording, keylogging, etc. It's a comprehensive monitoring solution that can be used by parents, employers, as well as any person who wishes to monitor someone's phone activity.
Mobistealth has the ability to monitor all incoming and outgoing text messages on the target phone. After recording them, it transports to your online dashboard from where you can remotely view them. Along with the messages, this SMS tracker app also provides you information about the sender, the name, and the contact number as well as the date and the time of the communication.
This SMS tracker app works on all mobile platforms including Android and iPhone. However, it works differently on them. Let's learn how to monitor someone's text messages on an Android as well as iPhone device.
Free SMS Tracker for Android: How it Works?
For Android, Mobistealth offers two premium packages. After using the free trial version, you need to upgrade to the premium version to benefit from all the important monitoring features. If your target person is using an Android phone and you want to monitor their incoming and outgoing text messages, you need to get the premium package for Android.
All you need to do is sign up for the Mobistealth service and then you can start using this free SMS tracker for Android. After that, you need physical access to the target phone for a few minutes as you need to download and install the app on their device. Once installed, the app will secretly monitor their text messages and record them.
The logged text messages will be transported to your online user account for which you have signed up for in the beginning. You can remotely monitor the text messages from anywhere and at any time. In case you want to monitor the messages discreetly, you need to hide the app's icon on the target phone so they cannot know about an SMS tracker installed on their phone.
SMS Tracker for iPhone: How it Works?
Mobistealth SMS tracker app works in a different fashion on iPhone devices. In order to track someone's text messages on an iPhone, you need to use the iBackup method offered by Mobistealth. Using that method, you can effectively monitor someone's text messages from their iPhone. This is why this SMS tracker for iPhone works better than most of the other SMS trackers out there.
To use the method, you need the target iPhone, a USB cable, and a PC or Mac device. Once you have these devices ready, you can complete the setup process which is going to take only a few minutes. As soon as the setup is complete, the backup of text messages from the target iPhone will take place whenever it is connected to the same internet connection as yours or connected through the USB cable.
The iBackup method by Mobistealth lets you track iMessages as well as the conversations taking place on other instant messaging apps such as Line, Viber, Hike, WhatsApp, and WeChat.
---